Archive for February, 2011
Toluna is an online community dedicated to making your voice heard! Express yourself through the use of Toluna's polls, opinions and reviews.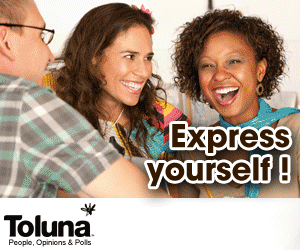 Members can join for free and Earn points by participating in online surveys and voting on online polls. These  points can be converted into various gift and discount vouchers. Members can also opt in to receive product samples for free, and submit their feedback after using them.
As a consumer you'll also get a chance to voice your opinion by testing and reviewing products for free!
You can also create your own exportable polls and opinion topics, and get answers from over half a million Toluna members!
0
MySurvey is owned and operated by the market research firm TNS which operates in over 70 countries worldwide and does research in almost every country of the world. MySurvey is a consumer panel made up of individuals who have volunteered to participate in market research studies. The panel members can participate in online research, update their information and redeem their MySurvey Points for various gifts / gift vouchers and charity donations.
MySurvey has developed into one of the world's largest consumer panels and TNS is the premier global provider of market research information to major corporations worldwide which consumers can be a member of.

0
DayBreak cashback is another cashback site, where members can join for free and get cashback on their purchases. You can earn up to 25% Cashback per purchase. Members are also paid when they post deals.
Please note that DayBreakCashback shares a database with Greasypalm. If you're already a member of Greasypalm, you can login using your login details for GreasyPalm.
Signup Bonus £2.50
Minimum Payout: £25
Payment Method BACS
Referral Scheme: DayBreak Cashback offers £2 for every referred member when they earn £15 or more cashback
Daily Clicks / Recurring Earners: Available
Click here to join DayBreak Cashback

0
GiveorTake is another 100% Cashback site, and offers their members cashback when they shop through the online retailers listed on their site. Get Top cashback levels of up to £120 or 25% of the purchase price. Members also receive information about special offers, discount codes and sales. An annual fee of £5 is deducted when a member has earned £25.
GiveorTake only pay via check, with an additional option to donate your earnings to charity of your choice. Only one Give or Take Membership is allowed per person, and a maximum of 2 memberships per household.
Signup bonus No
Minimum Payout £25
Payment Method Check / Donate to charity
Referral Scheme: None
Daily Clicks / Recurring Earners: Not Available
Admin Fee £5 Annual fee
0
GetPoundsBack.co.uk is a 100% cashback site. Members get 100% cashback from purchases made online, however an annual admin fee of £5 is charged from their accounts only when they have earned that amount. Since this is a 100% cashback site, the transactions take some time to show as confirmed.
Signup Bonus: £0
Minimum Payout £10
Payment Method Paypal (up to £50 only), BACs (any amount)
Referral Scheme: Earn £1 for every member referred once they have earned £5
Daily Clicks/ Recurring Earners Available
Admin Fee £5 Annual fee deducted from earned Cashback
Click here to visit Get PoundsBack